The answer is different for WeHealth Arizona and WeHealth Bermuda.
WeHealth Arizona
WeHealth Arizona is part of the United States interoperable system for exposure notification in collaboration with Google, Apple, APHL & Microsoft. You can learn more about it here.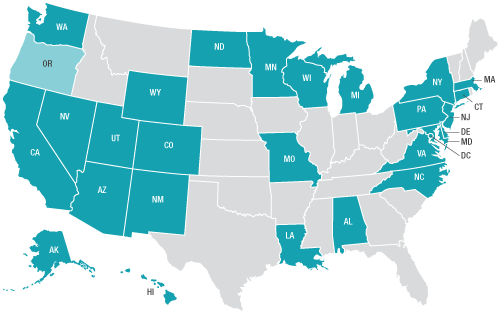 The app is 100% compatible and fully interoperable alongside users in the following states:
Alabama
Alaska
Arizona
California
Colorado
Connecticut
​Delaware
District of Columbia
Hawaii
Louisiana
Maryland
Massachusetts
Michigan
Minnesota
Missouri
Nevada
New Jersey
New Mexico
New York
North Carolina
North Dakota
Pennsylvania
Utah
Virginia
Washington
Wisconsin
Wyoming
While the states noted above have formal programs for exposure notification in place with an app for that state, many apps continue to work regardless of where you are located geographically in the USA. We recommend installing the app before you start traveling if you're not already using it. Inviting your hosts/guests to use either WeHealth Arizona or any app for the states above will also help protect them and your travel party. WeHealth Arizona will function as expected across the USA because the underlying anonymous exposure notification protocol works via bluetooth and doesn't depend on location.
WeHealth Bermuda
WeHealth Bermuda is limited to the Nation of Bermuda. Any visitors to the island would need to install the WeHealth Bermuda app to be notified and to notify others of exposure. Similarly, any Bermuda resident traveling out of Bermuda would need to use the local exposure notification app used in that region.